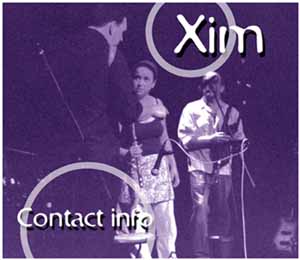 There are several ways to get in contact with us, and several reasons why you might want to. Perhaps you'd like to book us. You might want to buy our CD. Maybe you just want to say hello. Perchance you are the one who knocked Paddy's pint over in Ealing last year and you want to apologise (he did it himself but he won't admit it) in which case you can do it in the guestbook. You might, however, be embarrassed about it and not want to own up to it publicly. That's what email is good for. Then there's always the phone for those who don't want to confront Paddy directly but would rather apologise via Kate or Frank. And finally, a message to our mysterious postcard sender. Where've you been? Please send further peculiar images and banal washing-powder references to us in the post. That way we can run fingerprint and DNA tests on the very articles to try to figure out who you are.

Just in case you haven't made up your mind which route to take, here's how to contact us for bookings and everything else:.
email: talktoxim@gmail.com
Tel:
Address: 200 Unthank Road, Norwich, Norfolk, UK, NR2 2AH

---
Website design by BONEHIVE DESIGNS
Any comments or queries please contact the webmaster by clicking here.