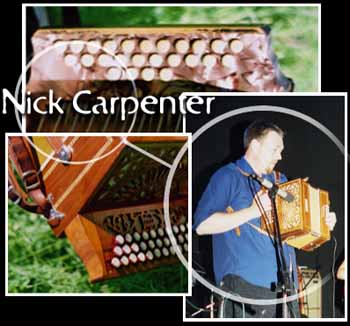 Nick Carpenter
Nick started playing the melodeon 10 years ago and has hardly put it down since. With a grounding in East-Anglian Molly dance, he has developed his distinctive style influenced by the melodic structure of French music. Nick always asks for too much melodeon in the monitors so we smile and nod and don't turn him up at all.
Lately Nick has been mostly listening to...
Buena Vista Social Club, Bittu Bhangra, Hevia, Maubuissons, Dedale, La Chavannee, The Klezmatics, Abba, The Quintet of the Hot Club of France.