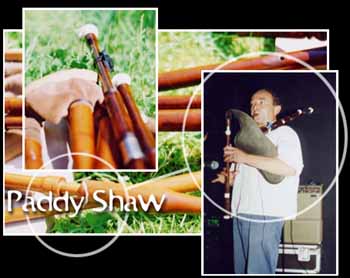 Paddy Shaw
Paddy plays bagpipes and bass guitar, with his roots firmly entrenched in R&B, Jazz and Rock. He was a recording engineer for several years, and discovered the world of folk music after being roped into playing the bass in a ceilidh band. Somebody showed him some bagpipes at St. Chartier Festival one year and we've all been experts on tuning them ever since.
Lately Paddy has been mostly listening to...
The Who, Blue Oyster Cult, The Beach Boys, Jean Blanchard, XTC, Cake, Dan Hicks, The Meters, Harry Connick Jnr.