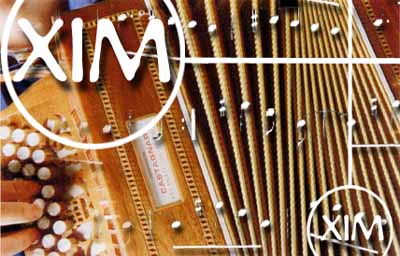 Hello and welcome to the XiM website. Thanks for coming. Make yourself at home by clicking on one or two of the buttons on the left and giving yourself a little tour of the site.
We are a band from Norfolk featuring melodeon, hurdy gurdy, bagpipes, flute and bass. Not just another dance band - we implant rhythm and groove into all our music - filling dance floors with the grooviest smiliest dancers you'll ever have had the pleasure of being amongst. Shaped by the traditional dance music of central France and our own influences, the original tunes make a dynamic and exciting range of new material. Our music is as good to sit and listen to as it is for concerts, French style 'Bal-folk' and traditional Ceilidhs.

Get to know us by investigating our biography section. Find out about XiM gigs - past, present and future, or brighten up a blue day with a peep at the '...most embarrassing...' section of the gallery. In a spare moment there are several thousand web-pages worth of links to look through, or you could browse through the endless ramblings of the journal section. Alternatively you could cut to the chase (and tell us about it) by heading straight for the guestbook. Of course, no self-respecting band would let you leave the site without encouraging you to read about, moan about, or buy their CD, so the next sentence is devoted to that. Click on releases to read about, look at, listen to and even buy our CD '989'. It's good, honestly. Someone told us. If they're wrong, you'd better contact us and let us know. Ta!